I received a set of BassBuds ear buds and decided to give you guys a review of how they worked for me. I was given a white set but the ear buds  are available in a variety of colors like
Pink
Green
Red
Gold
Black and a few other assorted colors
and also white if that is what you like. You need to check the website often because certain colors sell out faster than others but they are  usually back in stock after a few weeks. They would make an excellent gift so you can just jump to end and get a head start on ordering for that special someone who loves technology that looks good!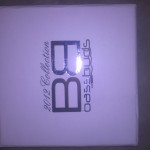 The ear buds came in a cute box and upon opening I saw the ear buds and three sets of rubber ear buds. I tried the medium sized buds which came already attached and they fit perfectly so I did not need to try to large or small sizes.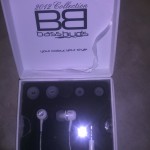 The kit comes with clear silicone buds attached but then I also got a set of black silicone buds and black memory foam buds.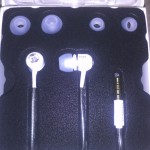 There is also a user guide that has very simple instructions on how to use the ear buds and that got me started.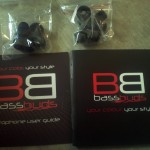 The buds have only one button that is used to control all features from making and ending calls to controlling your music playback.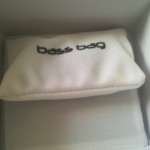 The music feature did not work for me, nor did the voice feature, but I am not sure if that is a problem with the BassBuds or with my phone. My phone has been acting crazy lately so it just may have been an error on my part. So although you may think that I was sent the buds and I have to say only nice things..this is not true. I am giving an honest review and letting you know that I was not able to use the voice feature but I am not sure why.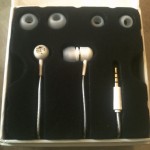 The BassBuds are quite attractive and even have a Swarovsky crystal accent in the middle to bling up your look a little bit. The one thing I must say I really like about the Bassbuds is that they are VERY comfortable. I currently own a cheaper pair of ear buds that are similarly shaped (not sure what the brand is) but they are painful after a few minutes.
The BassBuds lived up to the comfort test and I feel like I can use them for hours on end!!!!! I did not like the fact that I was given white buds as I would have preferred another color but that is merely cosmetic.
The sound quality from the BassBuds is AMAZING!!!! Everything sounds really clear and not tinny like with many other ear buds I have used in the past.
If you would like to order your own Bassbuds ear buds you can go here and you will get a discount of $30 on your purchase by using this code at checkout: BB59764.
Yes they are a bit pricey up top but I think the sound quality and comfort make up for the cost AND you can save some money by using the discount code provided above so it should all balance out in the end.